Parents I just wanted to remind you that since the weather is supposed to get pretty cold over the next several days, please be sure your children come to school dressed for the cold weather. The younger students will still go out for recess with these temperatures, so we want them to be warm and cozy. Also, tomorrow is the last day for Butter Braid orders for our PTO. Don't forget our Veteran's Day program tomorrow at 9:00 in the main gym.

November 15, 2022 Board Agenda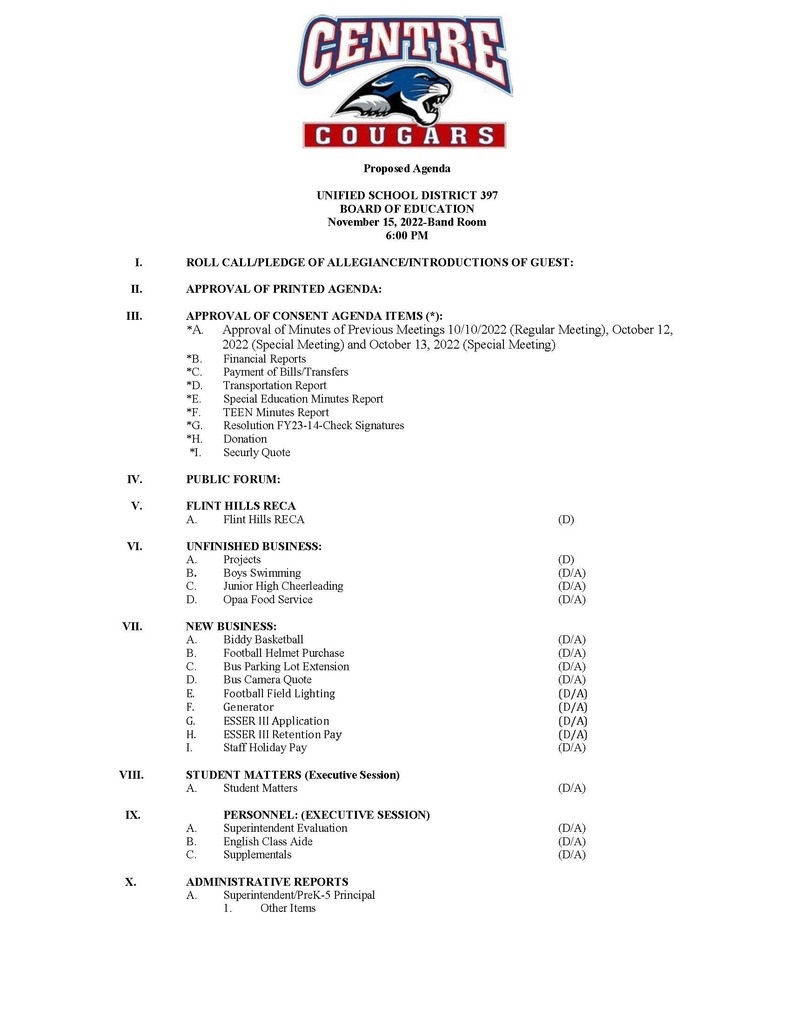 Parents and Students attending the Tampa trip please contact the office to let us know who will be absent during those days and we will make arrangements for their work to be sent home to complete before they go on the trip. Thank you for your cooperation and have a great time!

Here are the events this week!

Due to a junior high game on November 14, the regularly scheduled board meeting has been changed to November 15, 2022 at 6:00 P.M.
Calendar change: The fall athletic banquet that was originally scheduled for November 11 will take place on Tuesday, November 8 at 7:00 p.m.

Sophomore Katie Bina sprints to a 10th place finish at the 1A State Cross Country Meet Saturday in Wamego. Katie competed against 89 other runners. Congratulations Katie on an outstanding achievement. Cougar Proud!!!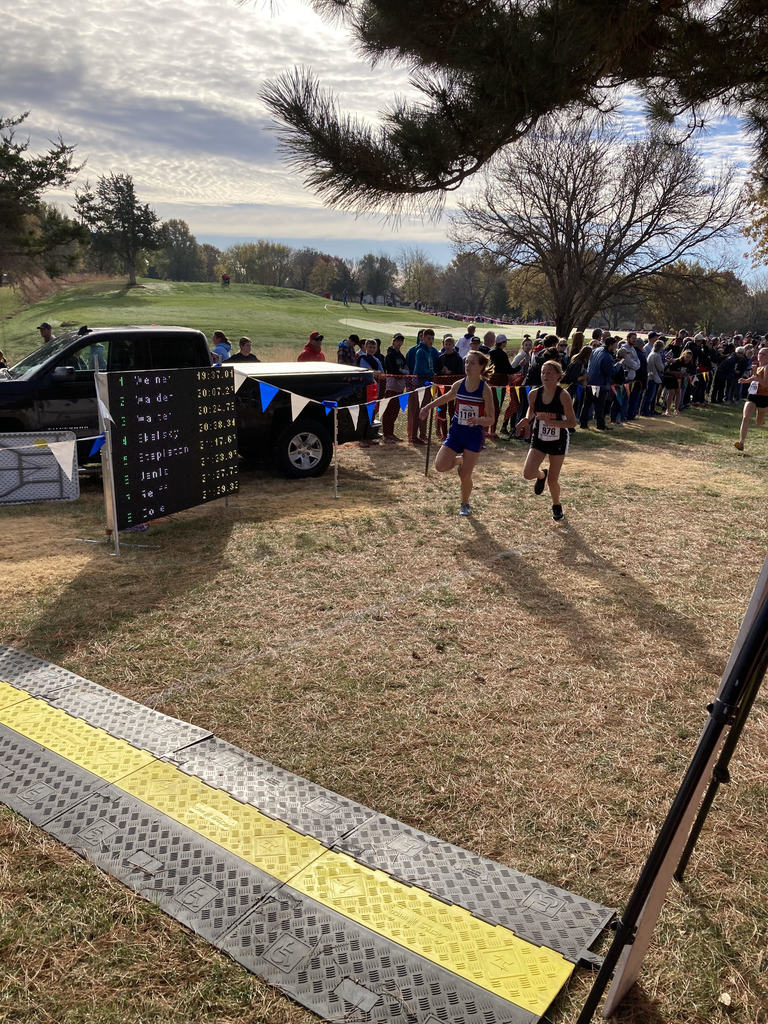 Don't forget the football game is tonight at 6:00 PM against Natoma! Hope to see you there!

PTO Trunk or Treat Reminder If you will participate in the trunk or treat on Monday the 31st, please be here by 2:15 to begin setting up.

STUCO will be serving Doritos Walking Tacos on Thursday at the football game! Thank you for supporting all of our clubs and kids!
Reminder that parent/teacher conferences will be today and tomorrow from 4:00-8:00. In the Main Gym, tables with donated clothes will be available. Please take whatever you need for your family.

Saturday was another great day to be a Centre Cougar. The day began with Sophomore Katie Bina placed 10th at the KSHSAA Regional Cross Country meet held in Wichita. Her successful finish qualified her to compete next Saturday morning in Wamego at the State 1A Cross Country meet. In the afternoon the Centre High School volleyball team took care of business in the first two matches to advance to the championship match against the #1 seated Central Christian Cougars. The lady Cougars fought hard against a very good Central Christian team and came up short of the championship. The volleyball team is very young, so we are looking forward to big things next season. Good Luck to Katie this Saturday!

Just a reminder to Centre parents that Parent/Teacher Conferences are this Monday and Tuesday October 24th & 25th from 4-8 PM. Good communication is essential between parents and teachers in the success of our students.
Parents' night will be at 6:30 tonight. The football game will start at 7:00.
Reminder that tomorrow is the next bank day for JH and HS students. Make sure to get all missing assignments completed and turned in.

We want to thank our bus drivers and transportation director for the great job they do getting our student to and from school every day!

Breakfast tomorrow morning (Thursday October 20th) will be sausage biscuit instead of sausage pancake on a stick. We did not get any in our last order. Thank you!
JH/HS Parents and Guardians, please see the attached letter for information on some upcoming events. Thank you.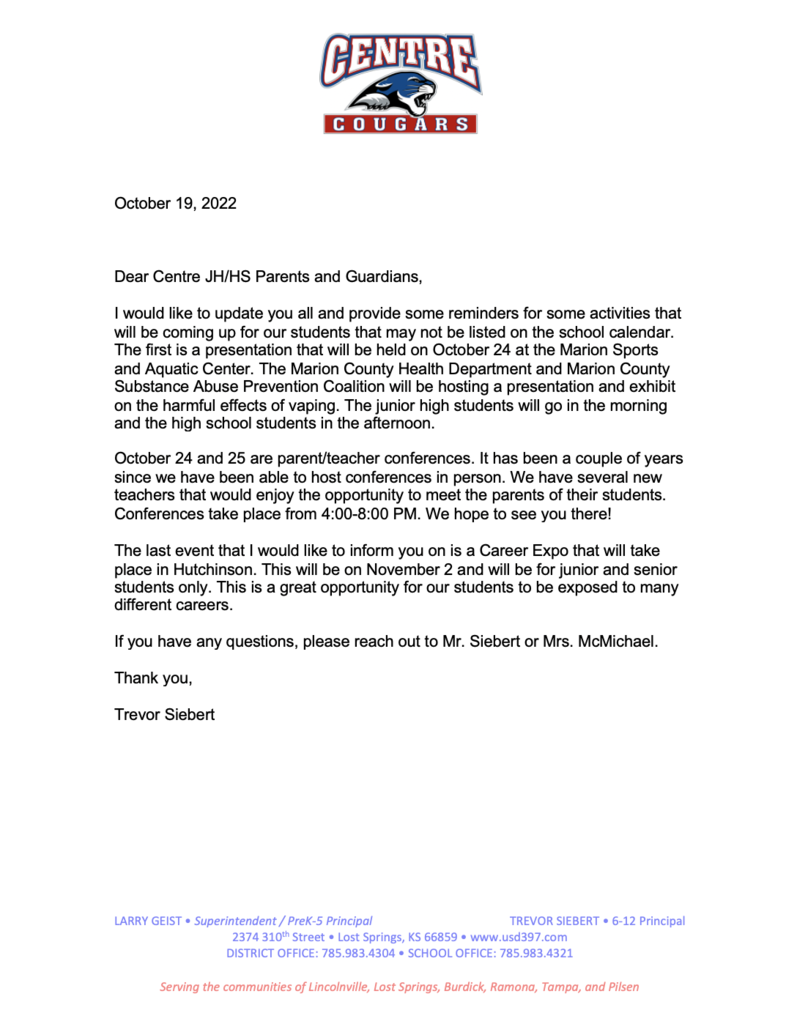 With the change in weather, please remember to send your students with clothes that are appropriate for the temperature. Unless it is far below freezing, we plan on taking students out for recess so they can run off some energy and get some fresh air. We had a number of JH/HS students that showed up with shorts/t-shirts, and a blanket wrapped around them. According to the handbook, blankets are not allowed to be carried around. The building is plenty warm and the blankets can cause issues when students are going from room to room or in the classroom. Thank you for your attention and cooperation.

Centre PTO Tailgate Party