This is a message from Centre Unified School District 397. We want to remind any of you that have students that are wanting to take driver's education this summer, the fee is due before Spring Break begins. The cost of driver's education is $102.00 and must be paid in cash. Students need to be fourteen years old before the end of May in order to take the class. Again, if you want your student to take driver's education this summer, please bring $102.00 in cash to the school office on or before the March 11th deadline. If you have questions, please call the school office at 785-983-4321.
Good evening, This is Larry Geist, superintendent of schools for Centre Schools with a reminder that spring parent-teacher conferences will be held tomorrow Tuesday, March 1st from 4 PM until 7 PM. If you would like to meet with your child's teacher during that time, please contact either the teacher or the school to schedule a time to meet. Also, Driver's Education forms are due in the office before spring break as well as orders for the yearbook. Thank you and have a great evening.

There will be a special board meeting tonight, February 28th, 2022, after 5:30 pm in the band room.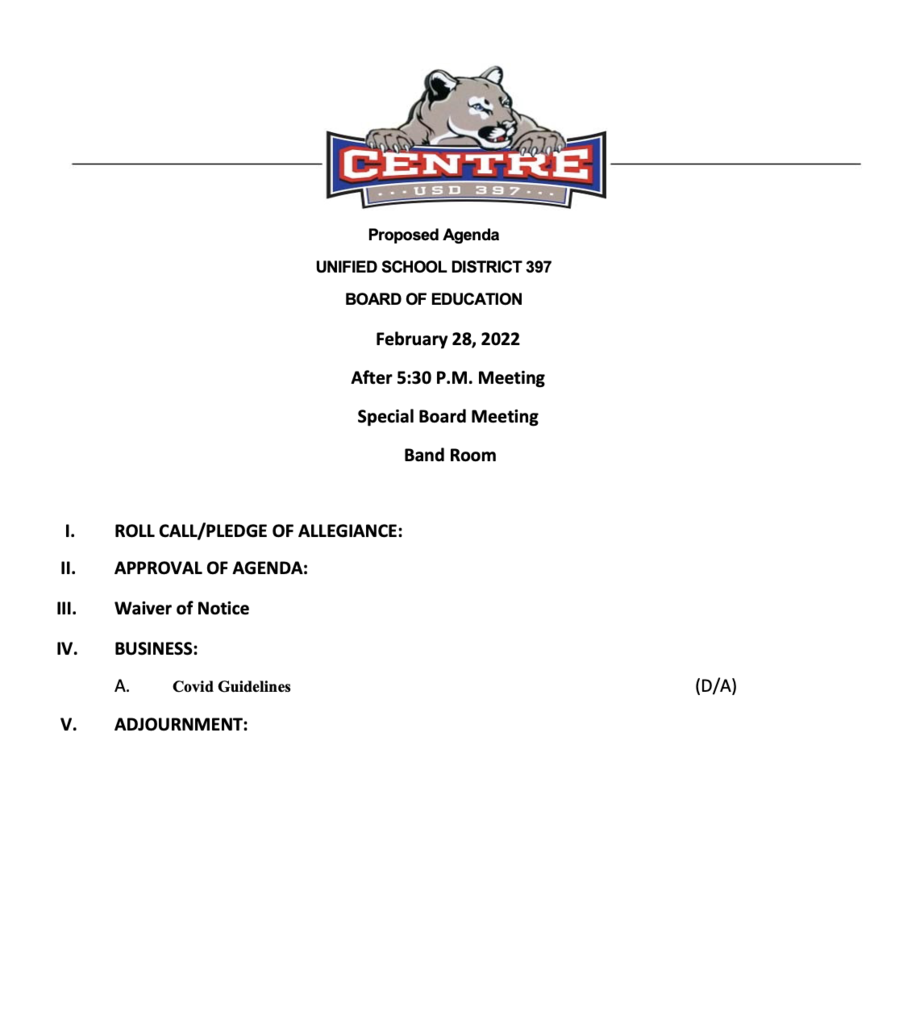 There is a special board meeting on February 28th, 2022, at 5:30 pm in the band room.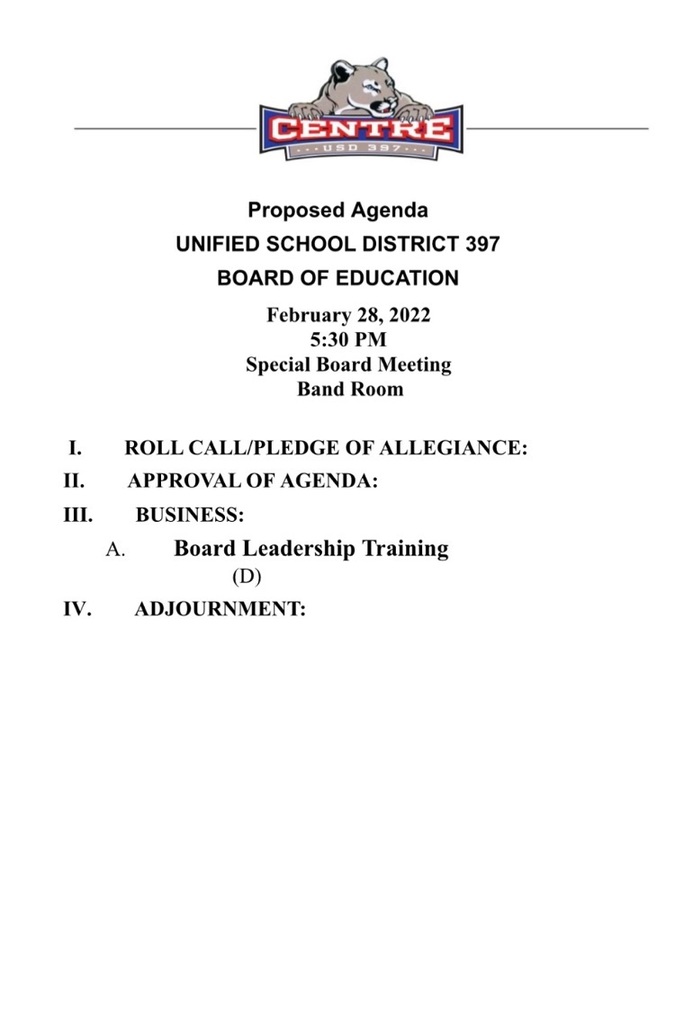 Here are the events for this week and the Sub State Brackets! Good luck to our girls this week!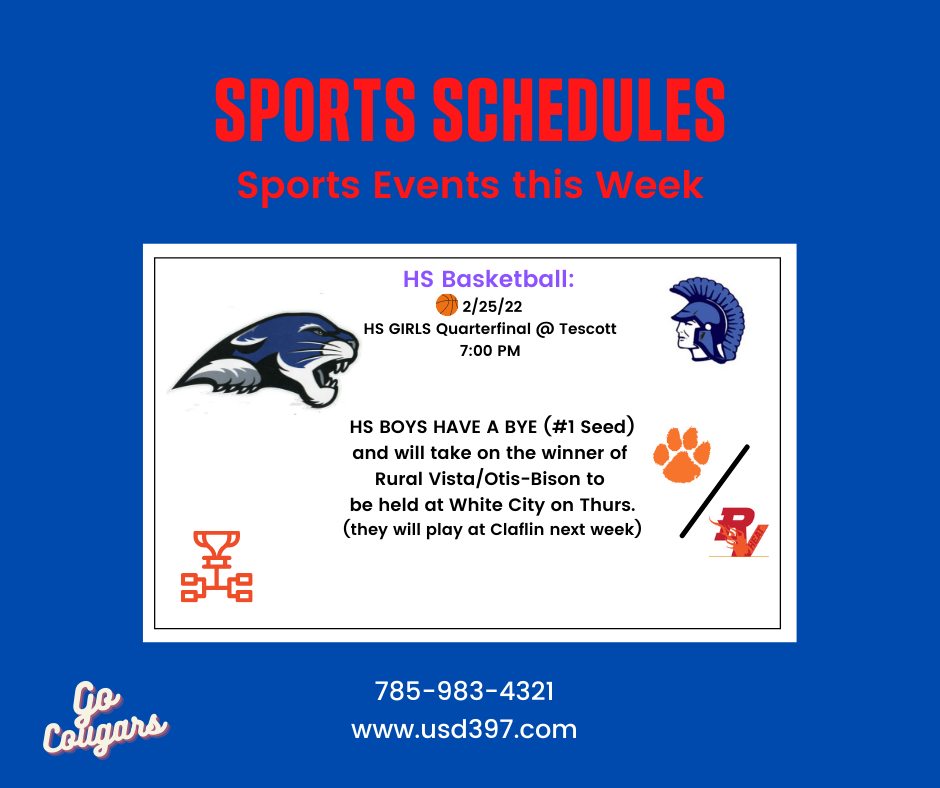 There will be no school on Monday, February 21st for Centre Unified School District 397. This is President's Day. School will resume on Tuesday, February 22nd.
Because of roads refreezing and most of our county roads still being slick, Centre Unified School District 397 will have a two-hour late start tomorrow morning. Classes will begin at 10:15. Please be careful.
Good evening. Because of the threat of dangerous winter conditions tomorrow, Unified School District number 397, Centre will not have school tomorrow, February 17th. Please be safe. Parent Teacher Conferences will be rescheduled for a later date. Thank you and have a great evening.
Congratulations to Centre 7th Grade Student Anna Godinez-Vinduska for winning the Marion County Spelling Bee this morning! Anna will now represent Centre USD #397 and Marion County at the State Spelling Bee at Newman University in Wichita on Saturday March 26th. Great job Anna! We are super proud of you and wish you the best of luck at State! Cougar Pride!!!

Here are the events this week! Looking forward to see everyone at Homecoming!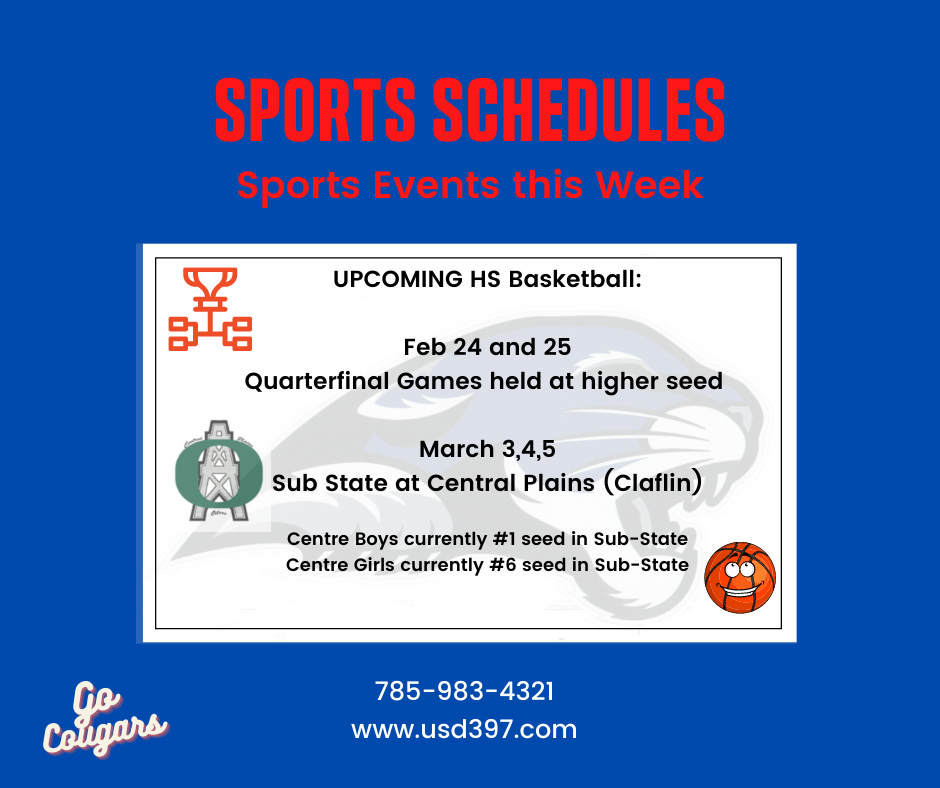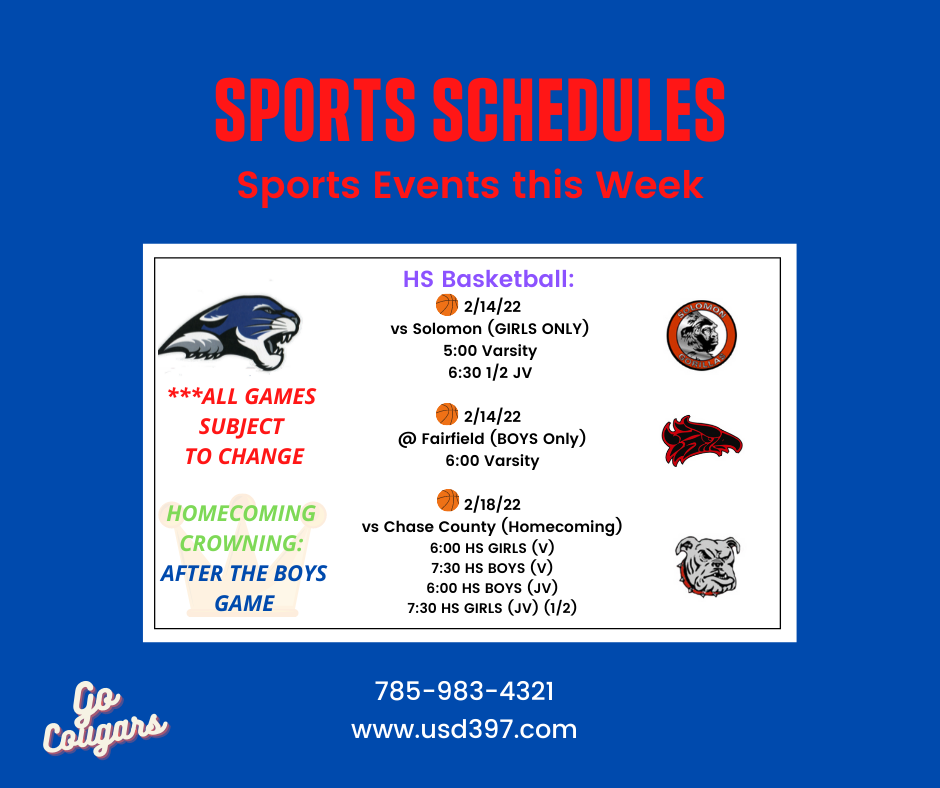 It's winter homecoming week and everyone is invited to take part in the daily activities planned by CHS Student Council. Monday - Camo Day Tuesday - Last Luau (Hawaiian) Wednesday - Frad Day vs Nerd Out Thursday - Class Color Day Friday - Formal/Dress to Impress - 8th hour pep rally

Several announcements and schedule updates for Centre JH/HS - YEARBOOKS Centre Yearbooks are for sale. The cost is $45.00 per book. Order forms are located in the school office and are due back before spring break (March 11th). This year the yearbooks were not included in the school fee sheet when you enrolled, as we did not know the cost yet. If you are wanting a yearbook for your child, please have your child stop in the office to pick up a form. DRIVER'S ED It is that time of year when we start looking ahead to the summer driver's ed course that will be offered here at Centre. The cost for driver's ed is $102.00. The fee must be paid for in cash. We will not accept checks or money orders. There are a limited amount of spots in the class, so it is first come/first serve. Payments can be made to Mrs. Bina in the office. HIGH SCHOOL BASKETBALL ON MONDAY, FEBRUARY 14th There are a couple changes to the High School basketball schedule for Monday, February 14th. The high school boys will travel to Fairfield to play at 6:00 PM. The high school girls will take on Solomon here at home at 5:00 PM.

The regularly scheduled board meeting is on Tuesday, February 15th, 2022, at 6:00 pm in the band room.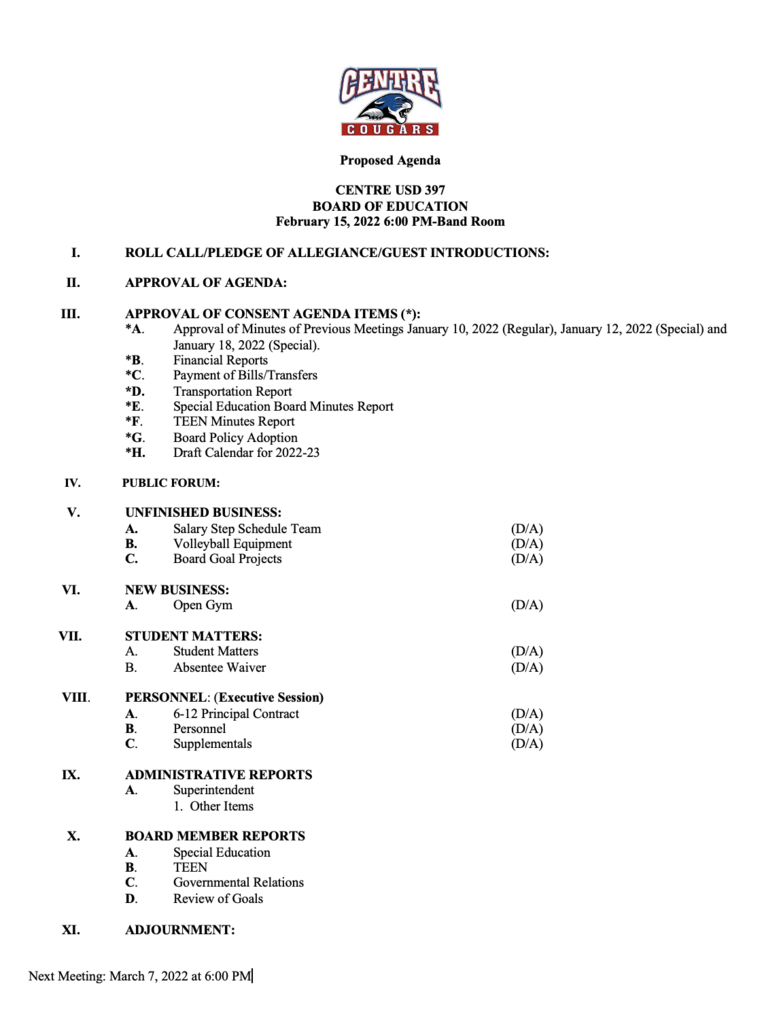 Here are the Events for this week! The Fairfield game has been postponed. Do not forget Parent's Night this Tuesday! Go Cougars!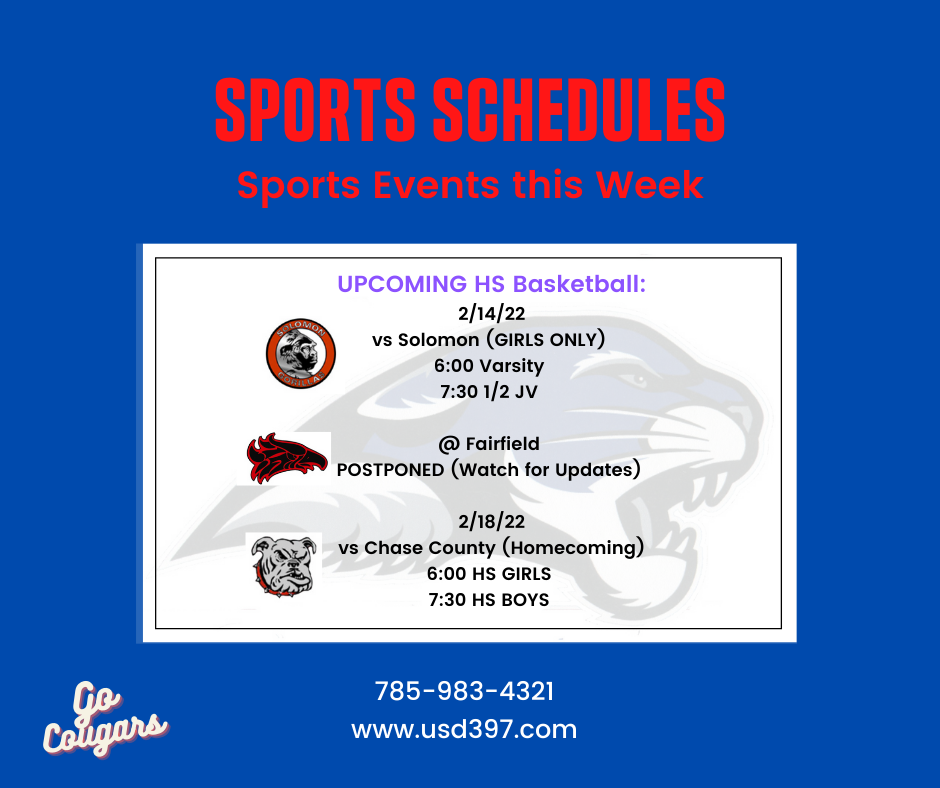 Today at Herington there will be JV Games. 1/2 Girls JV starts at 4:30 and 1/2 JV Boys at 5:15. Both of these games will be in the High School Gym. Also do not forget HS BB plays tomorrow at Centre at 10 AM against Wichita Classical. Girls Varsity starts at 10 AM, Boys Varsity at 11:30 AM. JVs will play opposite those times.

Tomorrow, February 4th 2022, there will be a 2 hour late start for Centre School District.
Because of roads continuing to blow shut and the expectation of below zero wing chills, Centre USD #397 will not have school on Thursday, February 3rd.
Because of the impending snow storm forecast for Wednesday, there will be no school tomorrow February 2nd for Centre USD #397 Schools. All Activities will be cancelled as well.

Centre Unified School District 397 will dismiss early on Wednesday, February 2nd. Classes will dismiss at 1:00 pm. This is a scheduled early release for staff development.

There will be NO JV games tonight. Varsity Girls will start at 6:00 PM and Varsity Boys will start at 7:30 PM. Hope to see everyone here!